About us
Northern Star Lighting Co., Limited
As we can see CREE LED chips are more and more popular and widely used on auto LED Driving Light Bar, Auto LED work lights. People are happy to pay for it for its Best Performances in Lumen Output, Lifespan, Stability, etc.

That's Why CREE LEDs are being copied cheaply all over the world for up to 500% profit !. Clients find it is very difficult to purchase a good LED Light Bar / LED Driving Light with Original CREE LED chips.

Did you ever have customer claims about LED diodes burnt in LED Light Bar / LED Work Lights?

Did you ever doubt the " CREE LED chips " you purchased is real original CREE?

Are you having more defect rate than it should be?

Did you find the brightness of LED Light Bar you resell is not so bright as before?

Anyhow, LightsGoGo is here to teach you how to identify the original from fake CREE LEDs.

Firstly, let's see which models of LED chips from CREE Inc., are widely used in LED Light Bars / LED Work Lights. The more is used, the more is copied.
| | | | |
| --- | --- | --- | --- |
| CREE Models | Size | Base Colour | Photo Ref. |
| XB-D 3Watts | 2.45 x 2.45 mm | Yellow | |
| XT-E 5Watts | 3.45 x 3.45 mm | Yellow | |
| XML 10Watts | 5.0 x 5.0 mm | Green | |
| XML2 10Watts | 5.0 x 5.0 mm | White | |

P.S., CREE XML is copied by many factories so CREE Inc., developed XML-2 to replace it and doesn't produce it anymore. Don't expect too much on having it on your CREE LED Light Bars or CREE LED Work Lights.
Remember the difference: XML green base and XML-2 White base.

Secondly, the following are 5 ways to judge whether LED chips are CREE Original.

1, Get a microscope and judged by eyes after scraping the fluorescent power and lens on the LED chip. You will find CREE LED chips are produced with exquisite workmanship.
Tips: iPhone camera can also do this if you don't have a microscope but good eyesight.

2, If you have a real original one before, compare it with the one you doubt.

3, If you are a distributor, reseller, you are responsible to give your clients a real CREE LED Light Bar / CREE LED work Light as they have paid for.
So, Buy one from famous companies like KC LIGHTS, PIAA, RIGID, HELLA Or purchase from LightsGoGo directly at lower cost.

4, Send one piece of LED chip to CREE Inc., for testing report, I don't think they will refuse you. Also you can contact LightsGoGo for help.

5, A very simple way to identify XBD 3W,XTE 5W CREE LED chips. Put LED chips under the light and use Iphone camera to zoom it up, you will find a " X " symbol inside the lens. (This way is only used for XB-D and X-TE CREE LED chips)

Below photo shows how the " X " symbol looks like with zoom up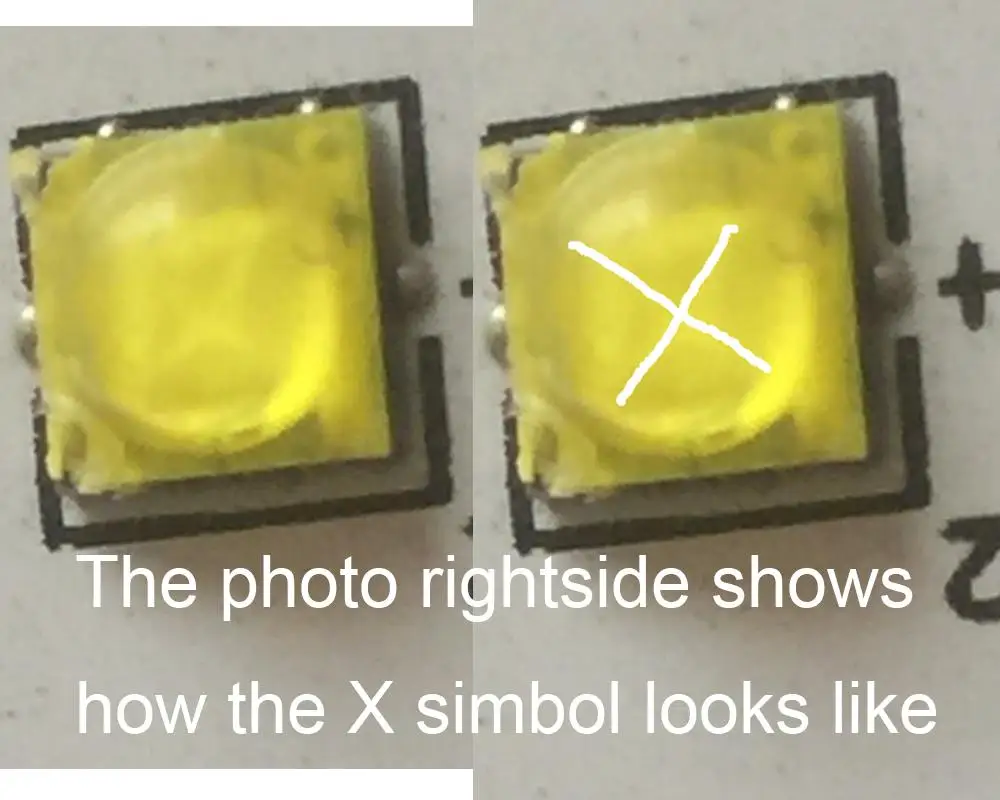 With the knowledge above,Let's go to enjoy the driving with CREE LED Light Bars !

Thanks to CREE Inc., for their contribution to vehicle Driving Lights field!